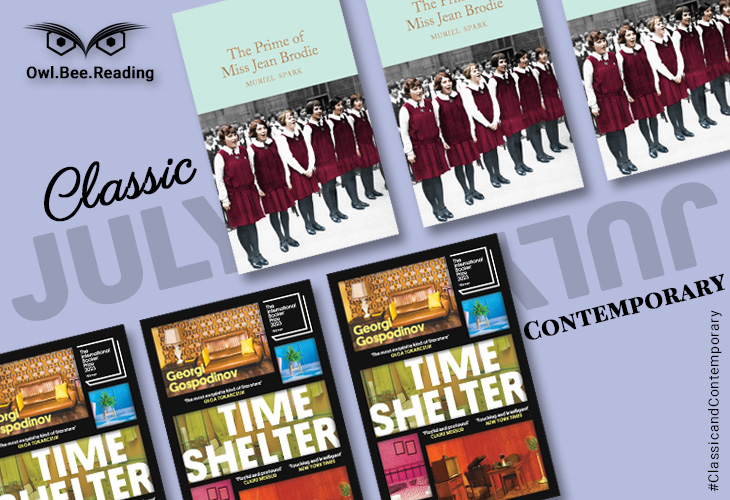 Reading
#ClassicandContemporary book challenge: July
#ClassicandContemporary book challenge:
The Prime of Miss Jean Brodie and Time Shelter
Time Shelter
(Времеубежище)
Author: Georgi Gospodinov
Genre: Contemporary Fiction
Publisher: Orion Publishing / Janet 45 Publishing
Year: April 2020
Rating:





Time Shelter by Georgi Gospodinov is a book that stays with you to reflect upon long after you've read it. I'm proud that a Bulgarian author won the International Booker Prize for 2023 for the first time, and that it was with this book in particular.
I think Time Shelter totally deserves the recognition it is getting, because of its originality, the fluidity of the prose, the choice of words (I read it in Bulgarian and the word order is spectacular) and all the feelings it brings. For me, those were feelings of nostalgia, of being sad and grateful at the same time, a sweet melancholy of missing a time in the past with no particular time in mind…
I am not going to lie, it is quite a challenging read, full of events from years past and lots of history references. The middle section of the book is where all the history bits are concentrated and it took me a long time to get through it. It's a very European-centric book: as the time shelters grow in numbers, this dangerous wave of nostalgia envelops the European countries and they are all forced to hold referendums in order to decide which time period would suit them best in order to "go back" and live in that particular year. I said "dangerous" wave of nostalgia earlier, and I've used this word precisely because the past, even though we usually tend to remember only the good stuff, is politically charged as well, not all countries have good memories of their past, so it can be dangerous going back to a place or a time that didn't feel safe at the moment when it was actually happening. I hope that makes sense, it wasn't that easy to grasp the idea of the book, it's a very literary read and the plot wasn't necessarily the most engaging or propulsive, at times it felt quite abstract and confusing.
What specifically added to this confusion was having both Gaustine and the narrator being the same character… Well, they are not exactly the same person, but as a sort of metafictional element in the book, it turns out that the narrator may have written or created Gaustine. We lose him at some point, around the middle, when the book focuses on the referendums held in each country, and this is the exact part of the story when I also felt a bit lost. A complex book, full of many things but written in a simplistic and clever way.
Overall, Time Shelter is told in short chapters and follows a loose storyline zooming in and out on the narrator, who feels lost and confused, not knowing where and when he belongs. It is very quotable, there are lots of clever thoughts and interesting takes on time as a concept, which I quite enjoyed, but if you're diving into this book thinking it might be a piece of speculative fiction, it's not. It has more of a politically-based narrative that gives an overview of the past, instead of focusing on the time shelters and the concept of going back in time.
It's a powerful read and I am definitely looking forward to reading more by Georgi Gospodinov. I admit this is the first one I read by him and I'm very pleasantly surprised, he has a way with words that leaves a mark in your heart. It's a pleasure to read him!
More of his works include The Physics of Sorrow, And Other Stories, and Natural Novel.
Synopsis:
'In Time Shelter , an enigmatic flaneur named Gaustine opens a 'clinic for the past' that offers a promising treatment for Alzheimer's sufferers: each floor reproduces a decade in minute detail, transporting patients back in time. As Gaustine's assistant, the unnamed narrator is tasked with collecting the flotsam and jetsam of the past, from 1960s furniture and 1940s shirt buttons to scents and even afternoon light. But as the rooms become more convincing, an increasing number of healthy people seek out the clinic as a 'time shelter', hoping to escape from the horrors of our present—a development that results in an unexpected conundrum when the past begins to invade the present.'
I'm glad I read it, although I do think you need to have some prior knowledge of the events that had happened, not only in Bulgaria, but in Europe as a whole, and that makes it a bit too heavy and difficult to follow or process. But it certainly left an impression on me, so I may go back to it one day and re-read it.
The Prime of Miss Jean Brodie
(mini review)
Author: Muriel Spark
Genre: Bildungsroman, Psychological Fiction
Publisher: Macmillan
Year: 1961
Rating:





The classic book for the past month of July was The Prime of Miss Jean Brodie by Muriel Spark.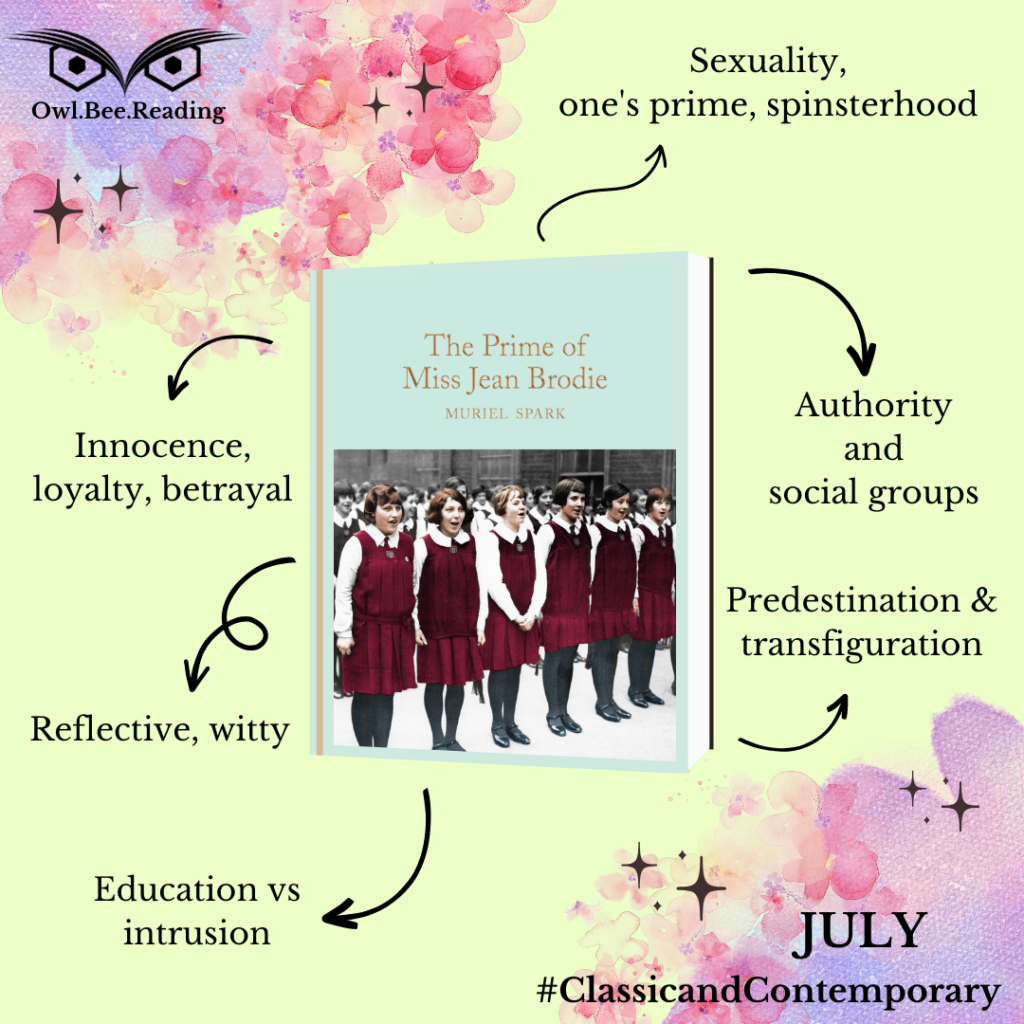 An important novel in terms of themes, it depicts the dangerous side of teaching and building a relationship with your teacher. Teaching should stop at guidance; whenever it becomes an obsession, domination and direction of the pupils' lives, it turns wicked, evil, even. That is what impressed me the most, the difficulty of the main theme was presented through a simple story. This is not a common topic in books, I haven't found many on the subject.
The word "education" comes from the root e from ex, out, and duco, I lead. It means a leading out. To me education is a leading out of what is already there in the pupil's soul.
Apart from that, this was not my favourite read at all. I didn't connect with either of the characters and didn't care what would happen in the novel, especially after constantly getting hints by the author at what happens to each of the girls of the Brodie set. Then when it actually happened, I wasn't surprised because I saw it coming from the beginning—way to spoil a book by its author! Even so, I'm glad I finished it, as it gives me an idea of Muriel Spark's writing style and it's an important piece for the Scottish literary scene, and the one that made Muriel Spark famous. It just wasn't my type of reading material.
I am putting old heads on your young shoulders,' Miss Brodie had told them at that time, 'and all my pupils are the crème de la crème.'
We realise from the beginning who is in charge: miss Jean Brodie, a school teacher who repeatedly makes sure that everyone knows she is in her prime. That alone would be somewhat uncomfortable to share with someone her own age—because why would they care and how does she know she is in her prime—let alone sharing this information with her students. To me, she seemed rather pathetic and narcissistic from the beginning: the only impressionable people in her life are her pupils, the Brodie set. "The crème de la crème", as she refers to them, they are 10-year-old-something girls, who would have been impressed by anyone and anything anyway at that age. Brodie's insecurities start to show as we progress and she becomes very annoying, at least to me.
It is well, when in difficulties, to say never a word, neither black nor white. Speech is silver but silence is golden.
The only good thing, I guess, was the character development of the main character, miss Jean Brodie, and the description of each of the girls. In this novel, less is more and Spark masterfully manages to say a lot using less words. Miss Jean Brodie is very well depicted but, unfortunately, she was the only one to undergo a sort of character development throughout the story. The rest of the characters were not particularly exciting or remarkable. I was glad it was a short read, but even so, it dragged on because of its repetitiveness and boring plot. The author constantly reminding us the main ideas of the book didn't make me believe in them more, it only made it more tiresome to finish.
One's prime is elusive. You little girls, when you grow up, must be on the alert to recognise your prime at whatever time of your life it may occur. You must then live it to the full.
Mona Lisa in her prime smiled in steady composure even though she had just come from the dentist and her lower jaw was swollen.
In case you need me… #owlbeereading!