Reading
When Other People Saw Us, They Saw the Dead: book review
Author: Various; edited by Lauren T. Davila
Genre: Horror, Gothic Anthology
Publisher: Haunt Publishing
Year: May 2022
Rating:





This is the second title I receive from one of my favourite publishers—Haunt Publishing—in exchange for an honest review, and I was so excited for the spooky season because of it! When Other People Saw Us, They Saw the Dead is a horror anthology by BIPOC writers, showcasing their best works—dark, unsettling and eerie short stories for the cold nights of autumn and winter. Besides the typical Halloween-y tone and the general themes of Gothic, macabre, folklore and fantasy, these short stories also explore grief, gentrification, white supremacy and colonisation. All very important topics that unfortunately don't find widespread exploration in literature.
Some of these 24 short stories are so eerie, others will make you think and question everything you know about the world we live in… and the one beyond. It was really nice to find diversity in this genre, and I thoroughly enjoyed the whole selection of stories, edited by Lauren T. Davila. As usual, the content warnings pages at the beginning were much appreciated, as some of the topics can be triggering for some people.
I loved how inclusive the collection is, there's a little bit of something for everyone. It is beautifully curated in an exciting selection of the best contemporary horror writers. As always, I was drawn to the psychologically-disturbing tales, like "Acheron's Lesson" for being so atmospheric and, as the opening story, it instantly set the tone for the ones to follow, "In the Bone Fields", a strange tale of two sisters, "The Mountain Air", which was so bizarre and creepy, "The Candlemaker's Daughter" that was like a modern-day twisted fairy tale, to name a few. For it being a collection of short stories, it didn't feel short at all, as many of the tales are longer than you would expect them to be, so that was all the better—more reading for us! I am always in awe of someone's ability to create a whole world, with a start and an ending, and given the fact that these are short stories, there was also enough background story, for the readers to be able to have a complete reading experience. Creating these stories so dark and spooky definitely made the writers' task all the more difficult, as they had to build the proper atmosphere, on top of everything else. I can certainly tell that they all succeeded, so this is an amazing book to get haunted by and get lost into during the spooky season.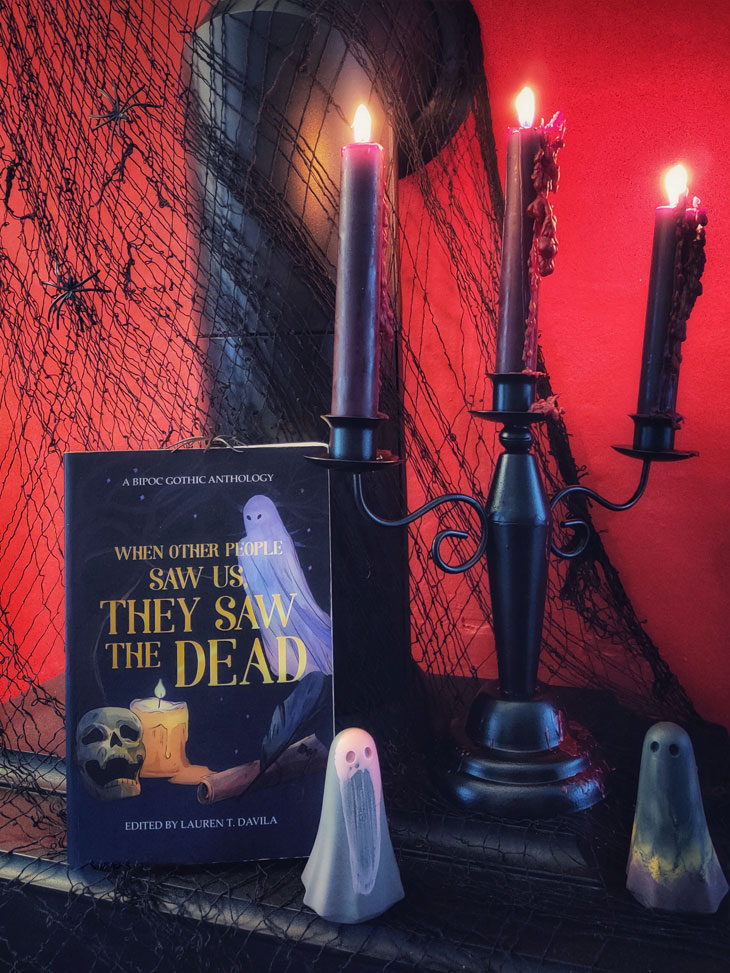 I never cease to be amazed by the cover art Haunt Publishing chooses to adorn their books with, and this one does not disappoint, as you can see! One thing I admire about Haunt Publishing is that their cover designs are so beautiful and distinctive that their books always stand out and are instantly recognizable.
If you want to read When Other People Saw Us, They Saw the Dead, now is the perfect time to get it! Haunt Publishing currently have an ongoing offer* to get 3 books for the price of 2 on all their books, so you can support an amazing indie publisher and add some great reads to your home library. You can access their website from this link and use code 342 when checking out. Find them on social media (@hauntpublishing on Instagram and @HauntPublishing on Twitter) to find out more ways to help this wee creepy press, if you can.

I wish you a happy spooky season and happy reading! Till next time!
In case you need me… #owlbeereading!
*The offer is ongoing at time of writing this review, and I take no responsibility of its duration or repetition in the future. For information, please contact the publisher directly.