Eating
Owl.Bee.Eating in China
Here's the usual food-related content for the month.
We hadn't had Chinese in a very long time and I was craving egg-fried rice for some reason. One day, we were running errands and didn't have time to prepare lunch to bring with us beforehand, so we decided to look for a Chinese restaurant. We did a quick research, as we needed it to offer vegan and dairy free options, so it was a spontaneous decision but we weren't totally unprepared.
We chose Street of Beijing, a cute and small Chinese restaurant at the top of the Meadows, on a lively street in the city centre. We had a warm welcome upon entering and immediately asked if they did vegan dishes. After a short initial confusion, we decided to give it a go. We were seated at a tiny table near the window, which I particularly liked because it was perfect for people watching. The downside was that people often watched back—shovelling noodles, of all things, into my mouth—but that's okay. They were actually looking at the menu that was stuck on the window and, speaking of it, here it is:
The interior was nicely decorated with Chinese-themed ornaments and bright colours. The tables were tightly packed together but it didn't feel cramped for space at all. It was full of people as we went, and a good amount of customers went in for lunch during our stay.
I didn't order my egg-fried rice, I thought I'd try and recreate the recipe myself at home. I ordered some stir-fried mixed vegetable noodles instead and my boyfriend had the Singapore-style noodles, which consisted of stir-fried vermicelli with egg, shrimp, roast pork, beansprout and onion. We quite liked the food, it was tasty, piping hot and freshly made to order. We couldn't finish it all though, as the portions were huge. Still, the meals were light and we didn't feel stuffed afterwards, which is important.
Here's our order in pictures:
I really enjoyed our stay, the staff were very nice and polite, they went the extra mile to make sure what we ordered didn't contain any dairy products and made us feel relaxed and welcome. My boyfriend said we could make Street of Beijing our go-to Chinese restaurant, as we believe everyone should have one!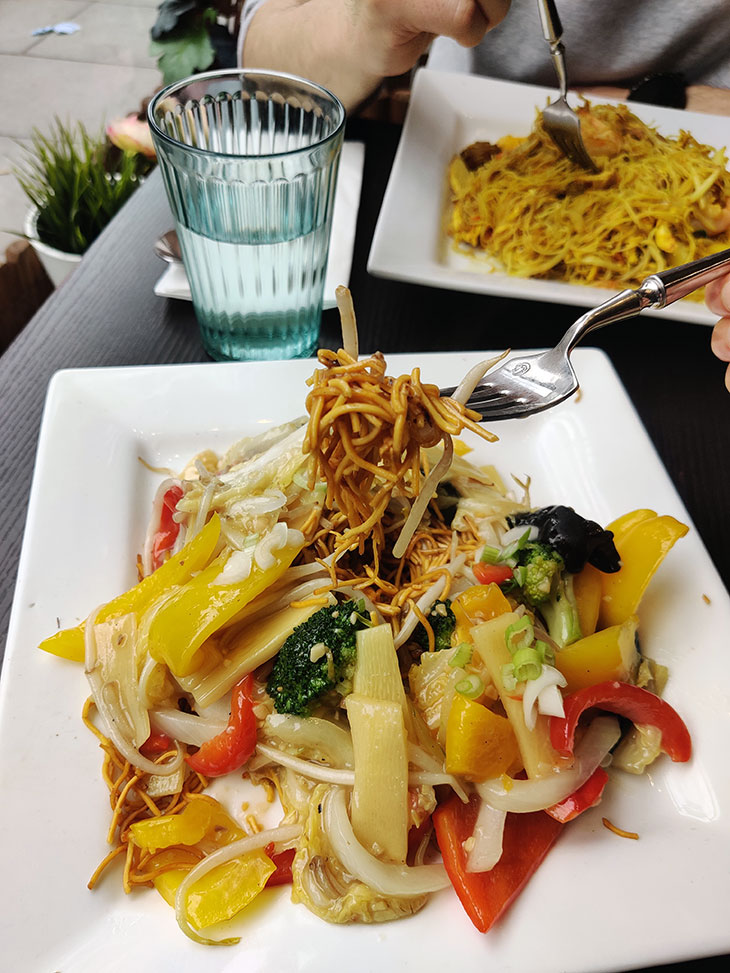 In case you need me… #owlbeeeating!